Diploma Course Chemistry in Cologne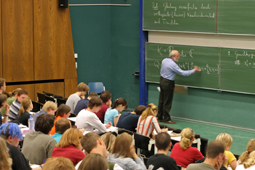 The chemistry diploma course of the University of Cologne aims at qualifying the students for independent scientific working and for this reason is an essential prerequisite for the basic research conducted at the Chemical Institutes of the University of Cologne.
The diploma examination is a first graduation of the Diploma Course Chemistry qualifying for a profession. The diploma examination determines if the candidate has a clear conception of the correlations of his subject, is capable of applying scientific methods and conclusions and has achieved the essential know-how necessary for the transfer into professional life.
It is the aim of the study course to convey the students the technical knowledge, abilities and methods necessary in professional life so that he/she is able to work scientifically, to classify the scientific results and to act responsible. The demands and changes of professional life are naturally taken into consideration.
As all courses are completely adapted to the new study programmes Bachelor Chemistry and Master Chemistry, students of the diploma course have to look for ?equivalent? courses using the ?equivalence lists? below.
Equivalence list Diploma - Bachelor/Master [pdf, 24,7 KB]
Possibilities for changing from Diploma Course to Bachelor degree programme
Starting with winter term 2007/2008, first-year students can only matriculate for the Bachelor of Science Chemistry degree. The Diploma Course Chemistry will be discontinued with the end of summer term 2013. Examinations for the Diploma Course Chemistry will be held for the last time at the end of summer term 2013 (for further details, please refer to the discontinuation regulations).
For students who are in the Diploma Course Chemistry at the beginning of winter term 2007/2008 it is possible to change to the Bachelor degree programme. It is not possible for students of the Diploma Course Chemistry to change into the Master degree programme without a previous Bachelor?s Degree. The following regulations are applicable:
First-year students (without intermediate examination): The course achievements of the Diploma Course Chemistry will be acknowledged for the respective modules of the Bachelor degree programme and the grades will be taken over as module grades. The respective ?equivalence lists? will be published at the beginning of summer term 2007.

Students who have already passed their intermediate examination when the Bachelor degree programme is introduced or will be doing so in the following four terms will have their course achievements of the basic study period acknowledged with 120 credit points. For the Bachelor degree further 60 credit points have to be achieved, including the Bachelor thesis. The modules to be completed for this will be set by the examinations board.

Students of higher semesters of study who passed their intermediate examination can change to the Bachelor degree programme with 120 credit points being accredited.
Should you consider changing from Diploma Course Chemistry to the Bachelor degree programme and need further information, please send the following form completed and signed to the Bachelor/Master Examinations Board ( chemie-pruefungsamt
uni-koeln.de This email address is spam-bot protected; you have to activate Javascript so that you can see it).